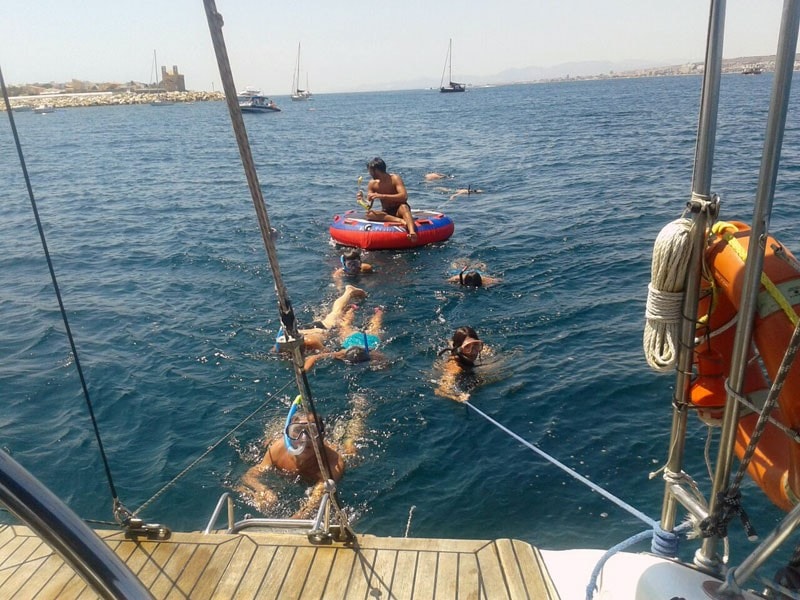 What we do?
We organize half-day or one-day boat trips from Alicante.
Where can we go?
If it is half-day, we sail along the coast of Alicante and if it is a day, it gives us time to go to the island of Tabarca, but if you prefer another plan, do not hesitate to consult us and we fix it.
Whit what we go?
With 12 m length sailing boat.
For 11  guests + skipper, amply, and clear deck which gives a lot of comfort to enjoy day trips..
Prices and what includes?
12 m length sailing boat.
Low season:
Half-day: € 300
Full day: € 500 €


High season (from 15th of June until 15th of September)
Half-day: € 350
Full day: € 550
Includes boat with skipper, drinks, snorkel, cleaning service, fuel (Tabarca route return, insurances.
It doesn't include food on board. You can bring your own food and/or if you go to the Island, you are able to eat in one of the restaurants there.  You can find menus from € 15 per person. If you need a reservation, just let us know or the skipper and we will take care of it.
From where we start and what time?
12 m length sailing boat: 
Puerto de San Gabriel de Alicante
Timetable: Day: 10:30 am  – 6 p:00 pm
Halfday: 10:00 am-14:00 am or 6:00 pm – 10:00 pm
RESERVATION:
EMAIL or calling +34 / 67 66 00 792 (WhatsApp, fiber, Telegram, facebook)
Updated: 25/05/2020