Boat Weddings: One- Of- A Kind Celebrations Cruising The Mediterranean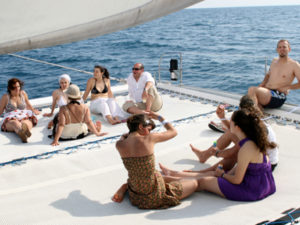 Would you like to host your wedding or special event in the ultimate  romantic setting? Have you thought about sharing this memorable experience with your significant other and guests surrounded by sunsets, breezes off the sea and breathtaking views? Think no further and rent a boat to celebrate your special event while sailing on the
Mediterranean.
Weddings on the water are ideal in months of good weather because they take place in a natural environment and the atmosphere is fun and  relaxed. You can either rent a sailing catamaran or a luxury yacht, depending on the number of guests and type of event you are holding.
The deck on a sailing catamaran has enough space for a unity table and chairs for your guests.  Sixty to eighty people can mingle comfortably in this area and given that it is an open deck, it is also possible to set up an area for a food  bar and for dancing. The boat can be decorated according to the preferences of the bride and groom, either with flower arrangements or nautical themes.
Renting a yacht is ideal for a more formal celebration. On a luxury boat, your wedding ceremony and reception will be held in an exclusive atmosphere with the option of staying overnight (up to ten people), making it possible to celebrate all night long.
You can also rent a powered catamaran for the occasion and enjoy a group outing to an island or rent a sailboat for a more intimate celebration with a personal touch.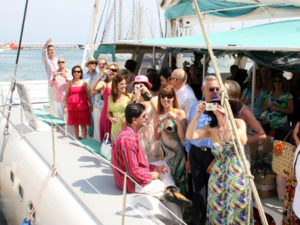 In addition to weddings, events such as bachelor/bachelorette parties, birthday parties and company events can be held on rented boats, all of which can include recreational activities such as swimming, diving and balloon releases.
Take the plunge- celebrate your wedding day or special event by renting a boat in Alicante, Denia, Javea or any other location in the Levante  area and discover the best way to enjoy the Mediterranean.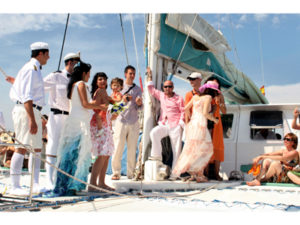 Spanish text writer:
Teresa De Vincenzo
www.redactotexto.com
Company contact:
Orsi Oletics
www.disfrutamediterraneo.com