Five coves where you can anchor in Mallorca and Menorca:
rent a boat and sail in the spring!
Sea lovers- winter is on its way out and we're getting ready to go sailing in the spring.
In March, temperatures are mild and days are longer which means there is no need to wait until the summer to rent a boat and set sail. Spring days are ideal for sailing along Costa Blanca or anchoring in Mallorca and Menorca, two absolute paradises for those who love the sea.
If you don´t want to wait for the summer and feel like taking advantage of good spring weather, you can rent a boat and anchor in the best coves of the Balearic Islands.
We know how enjoyable outings on a sailboat on the Mediterranean Sea can be so we have selected three coves where you can anchor in Mallorca and two coves where you can anchor in Menorca. These coves, secluded places away from the hustle and bustle, are certainly worth visiting. You can spend a day or a weekend relaxing, scuba diving or simply taking in the beauty of the sea.
Ready to rent a sailboat and discover these wonderful coves in the Balearic Islands?
See you on board!
Three Coves Where You Can Anchor In Mallorca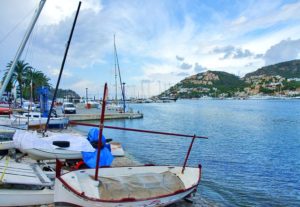 Cala d'Egos, Andratx (Mallorca)
This idyllic cove is located 2.2 nautical miles from the port of Andratx. Surrounded by pine trees, rocks and cliffs, this cove's blue waters will mesmerize you.
It's easier to get to by sea than by land which means it's never crowded which means you'll be able to have a quiet and relaxing outing.  Boats of different drafts can anchor here given that its sand and loose stone seabed is anywhere between 7 and 10 meters in depth.
The beach here is exposed to SSW and W winds which are ideal for swimming, diving and fishing. Should you decide to go on land, you can go for a hike and visit caves in the area and there are also steep slopes for those who love a challenge while hiking. An unforgettable place in Mallorca!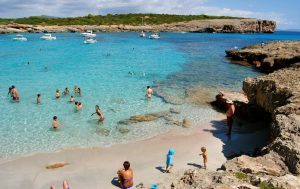 Cala Brafi (Mallorca)
Cala Brafi is near Portocolom, Felanitx . It's wild and practically virgin and ideal for shallow draft boats seeing that its seabed is 5 to 7 meters deep. Be cautious of NE, E and SE winds.
It's a secluded place which makes it ideal for nudists. Its turquoise waters are one of a kind so bring along your wetsuit and scuba diving gear. On land, all you'll find are rocks, sand and silence-the perfect surroundings to enjoy a good book or time with family and friends.
Cala Brafi has no pier but fishing is permitted. It's an excellent place to spend time by the sea.
Cala Varques (Mallorca)
This beautiful natural haven that will leave you spellbound is 16.4 nautical miles from the Port de Pollença. It is exposed to NE and E winds and has two stunning virgin beaches.
Cala Varques' seabed is about 3 to 5 meters deep which makes for relatively easy anchoring although one must be aware of the rocks on the north side of the cove. Once you have anchored, relax aboard or plunge into sea and enjoy the experience to the fullest.
Besides diving and fishing, you can also go trekking and visit some pre-historic caves along the way. Remember to bring proper footwear.  This cove is also ideal for those who wish to sunbathe in the nude and enjoy the beautiful surroundings.
Two Coves Where You Can Sail and Anchor In Menorca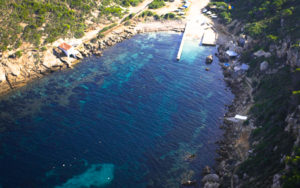 Ses Fontanelles (Menorca)
This virgin cove, which has a seabed of sand and Posidonia seagrass 4 to 7 meters deep, is an ideal place for lovers of calm seas. It's near the port of Ciutadella, west of La Vall .Once you have anchored, your boat will be protected from the train of waves found on the north coast of Menorca.
You'll remember this small, U-shaped cove for its mild breeze, calm waters, the rocks that protect it and the quaint houses of fishermen that surround it. It's exposed to NW, N and NE winds and its scenery is simply breathtaking.
The stretch of coastline where Ses Fontanelles is located was designated by the European Union as Protected Area for Birds and a Natural Area of Special Interest by the Parliament of the Baleareic Islands. You can see Escull de Ses Vinyoles from the coast.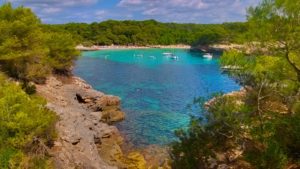 Cala en Turqueta (Menorca)
This cove is ideal for the anchoring of boats which are less than 12 meters in length and a draft of up to 2 meters. Cala en Turqueta will captivate you but only if you're willing to sail in the spring or the autumn for it is overcrowded in the summer.
Located between Punta des Tambors and Punta na Foradada and surrounded by cliffs and pine trees, Cala en Turqueta is part of the Natural Area of Special Interest of the south coast of Ciutadella.
This area, which is divided into two golden sand beaches, is exposed to SE, S and W winds. The sea is always calm, perfect for diving and relaxing.
Its wild landscape and warm temperatures, which are characteristic of Menorca, make the experience of floating on its clear blue waters even more pleasant.
Don't forget to bring along your snorkeling gear-its seabed is out of this world.
What do you think of our selection of coves where you can anchor in the Balearic Islands in the spring?
We offer boat rental services in Mallorca so you can visit these wonderful coves on a brand new boat, with or without a skipper.
Renting a boat in the autumn is much like renting one in the spring: more places to anchor, less people on the beaches and better deals when renting boats.
Find out for yourself- go sailing in the spring (day or weekend outing) and enjoy what the Mediterranean has to offer in the most pleasant season of the year.
Spanish text writer:
Teresa De Vincenzo
teresadevincenzo@gmail.com
Company contact:
Orsi Oletics
CEO
www.disfrutamediterraneo.com