Do you want to cross the Atlantic Ocean on sailing boat?
5 advices to prepare and enjoy an Atlantic crossing
Would you like to cross the Atlantic on sailing boat? Have you planned it as a nautical challenge, but you haven't made up your mind yet?
To make the decision to cross the Atlantic Ocean sailing, we've gathered five basic recommendations you should know to board in this unforgettable adventure.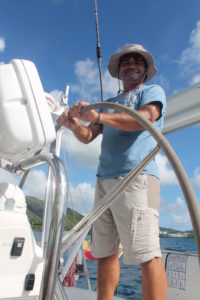 Few people as Cesar Enríquez, skipper of sailing boat with more than 30 years experience and passionate of this route, gives us all information. Every year, he boards in his Sargantal sailing boat and crosses the Atlantic Ocean and stays there until April.
Find out what he told us, what is waiting for you and what can you bring in your backpack reading this five advices to prepare an Atlantic crossing.
Let's board!
CHOOSE THE SKIPPER AND ACCEPT THAT YOU'RE GOING TO LIVE A UNIQUE ADVENUTRE
This type of crossing is usually pleasant, as long as the crew wants to do it. This is the first requirement.
What we suggest, that you don't worry and rely on skipper, who has to be chosen by his / her experience and references in oceanic navigation routes and long crossings.
Once on board, the recommendation is to assume the adventure with good character and with the desire  of living this experience to the full. "The rest comes" says Cesar.
DON'T WORRY ABOUT THE METEOROLOGY AND TAKE ONLY THE ESENCIAL.
As a passenger, you can learn what you want about the meteorology or oceanography, but remember that if you go with a professional Captan, he takes care about these things and he gives you the answers you can need to make the trip easier.
On the other hand, the boat is full equipped with safety material and medicines as well, though each person can take what he or she thinks appropriate, as a personal need.
During the Atlantic crossing, the weather is usually mild and it isn't necessary to take warm clothes. A water suit,  boots, and some polar is enough. Books? Those you want, but not so many because there won't be so much time to read, smiles Cesar.
What is what you must bring? Your passport! Don't forget it!
GOOD ATTITUDE IS THE BEST LUGGAGE
Living together is always an important issue. Remember, this trip has more than 3 000 miles, and depending on the circumstances, it can mean two or three weeks trip on the sea. The best is to have good attitude with other people on board and that's it, and Cesar says: "the rest comes easily"
There will be relaxing moment (you can relax, take pictures, see the sunset or sunrise), but we might find some storm or a wind.
In response to this, keep calm, the Captan is there for any problems and there is a good boat equipped for the work.
GET READY TO TAKE PART IN IT AND LEARN A LOT.
In these crossings the passenger should cooperate and participate in the navigation and help in the life on board. It takes part of the adventure and learning. You will have to make watches what depends on the number of crew of the boat. It usually takes 2 hours at night and three hours during the day.
The best is that the watch is almost always done by two in two and in this way you can learn from the most experimented.
OPEN YOUR MIND AND ENJOY!
I'm sure you have asked yourself how is organized the daily routine on the sailing boat and how can you do the daily activities as cleaning and meals. The good new is that in this type of crossing, a day has 24 hours, that is, there isn't a regular timetable: you will have different routines depending on the day, it is not like on the land. At the sea, as Cesar says, "we are always in work" therefore your day will be organized by guards you have and specially by how much you want to enjoy yourself!
Crossing the Atlantic on sail boat, from Europe to the Caribbean, is something that is lived with a lot of emotion. Cristobal Colón was the first who crossed the Atlantic in 1492 and continues nowadays because it holds a sense of adventure and proximity to the sea which makes you feeling alive.
There will be some difficult hours, because it is an oceanic crossing, but you will remember it only for the good moments!
This year, Cesar will leave Lanzarote toward Caribbean on 19th of November, 2016. Do you cheer up to try it?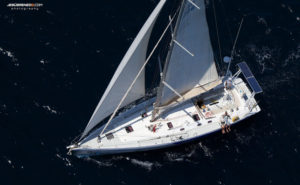 Spanish text writer:
Teresa De Vincenzo
www.redactotexto.com
Contact of Disfruta Mediterráneo:
Orsi Oletics (CEO – information, booking)
www.disfrutamediterraneo.com