Spain is a race country. In the Iberian peninsula during all Year there are hundreds of sail competitions, which makes the Mediterranean, Balearics Sea and Cantabrian Sea a sport scene and adrenaline on waves.
If you are a lover of nautical world and you want to participate in a race? Do you feel like to organize a team building with your company? Or just you want to spend a nice day as a spectator and follow the race renting a boat with or without skipper? In any case, we did a interesting list with commentaries about 7 high-level Spanish races 
It's time to take advantage of the Iberian coast to navigate. Let's go into the water!
CALPE – FORMENTERA RACE
The "Peñón de Ifach trophy started in June 1989 and And although it is not a very demanding competition is included in the official calendar of the Royal Spanish Sailing Federation. The boats start from Calpe (Alicante) and the race takes 3 days and it arrives to Formentera, relax and back to Calpe. This is a cruise race where participating boats ORC (Offshore Racing Council). As practice is great for sailors with not much experience, but veterans involve as well. This is one of the most beautiful races in the Mediterranean!
BARCELONA – MENORCA RACE
Also known as the regatta Minorca Sant Joan trophy Alfonso XIII, It is a high – level competition which begins in Barcelona and ends in Mahon. Participating boats Cruise type and is a traditional competition that announces the beginning of summer in Barcelona. The testing program establishes that it should make the trip Barcelona-Mahon (135 nautical miles) and later a in-port race in Mahon. In the last edition participated 30 vessels.
200 MILES A2 ALTEA RACE
This is a Winter race, that is celebrated in February in waters of Altea, Ibiza and Formentera. It organize Club Nautico de Altea and involved ORC boats with minimum 2 people. In the middle of cold season the participants of the competition come into heat quickly with this travel program: Altea – Ibiza to the right – we pass the "Freus" between Ibiza and Formentera – Buoy to the right in Formentera – Altea. Do you join in the next? It will be on 27th and 28th of February and 1st of March in 2015. Let's for it!
CASTELLÓN – COSTA AZAHAR RACE
This Valencian regatta takes place in June with several days of competition, depending on the wind conditions. It is a test that sponsors the Diputación Provincial de Castellón and the RCN Castellón and part of the city's nautical culture: It has already served 18 years! This is one of the preparatory races to the Spain Cup of the Mediterranean area and in addition to trophies, rewards participants with nice paella and fideua so that they restore forces after the competitions. Emotion and enjoyment to the maximum!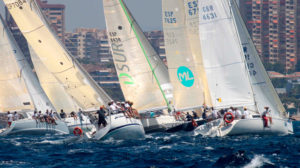 ALICANTE – TABARCA RACE
Is celebrated in the middle of summer (July) and is one of the most important of cruise races (port to port) of the country. Participate in it marks for the cup of Spain. In 2014 participated 46 boats that sailed for 3 days on the coast of Alicante, showing his experience at different levels: sailed skippers, who have done Volvo Ocean Race around the world and sailors with less travel, but lovers of sailing and the sea. The 20th Edition will be in 2015. We're looking forward to follow it by boat in Alicante!
Did you ever participate in any race? Tell us the details to add new navigation destinations and enjoy the Mediterranean.
Writer:
Teresa De Vincenzo
www.redactotexto.com