Sail in Grenada and discover the most exotic destination of the Caribbean! 
If you are looking for a paradisiacal nook to sail, you have to know Grenada. In its turquoise seas coastline you can dive among coral and seahorses. In its interior there are valleys, waterfalls and deep tropical forests and their inhabitants are happy people live in a place known as the "Island of the specias ". It is the aromatic destination of the Caribbean Sea and a paradise for those who want to rent a boat in Grenada and enjoy nautical activities during the whole year!
Do you want more about this insular country?
Grenada is a small island: it has 34 km long and 19 km wide and it is located in the Caribbean, only 200 km form North Venezuela, Trinidad and Tobago. There the people speak English, because until 1974 it was a British colony. As soon as you reach Grenada you can feel in the air sweat smell of nutmeg, ginger, cinnamon and vanilla. Its incredible tropical nature invites to peace and relaxation and its quiet and blue Sea offers the perfect excuse to rent a boat with or without skipper and go out to the Sea.
While in Europe arrives the winter, Grenada keeps an average temperature of 28° C. Thanks to the tropical climate you can explore the Granada coast by sailboat or catamaran all year and access to its two other main islands: Carriacou and Petite Martinique. There are bays for fishing, beaches for diving and nautical activities, bays for anchoring in safety way and fully equipped modern marines, as the Lagoon Marine, in St. George.
If you like the world of sailing, Grenada, faithful to its tradition of seafaring, holds two events of international fame: the Annual Grenada Sailing Festival, which begins in late January (it takes 4 days) and South Grenada Regatta (from 21st to 24th of February of 2015). In addition, there are local and friendly competitions of the grenadine community throughout the year. You are a beginner or experienced sailor, the Grenadian nautical activities will catch you.
In addition to the experience of sailing and swimming on beaches without bustle, in Grenada there is more to be done: to attend to street festivals (such as the Carnival in Carriacou), buy in street markets, listen live music and try the Antillean flavours. Did you know that rum is the national drink of the island? Get ready to enjoy the most varied cocktails and meet distilleries which produce it.
If you want to change the landscape after sailing on Grenada, the island has a varied mountainous geography to do hill walking. You will be able to delve into its lush vegetation: gardens and valleys with waterfalls, lakes and thermal sources. Don't miss to visit the Grand Etang National Park, forest reserve and bird sanctuary!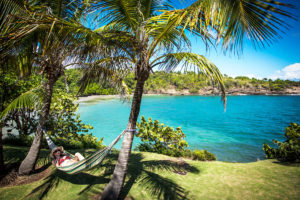 Do you feel like to walk and doing tourism in Grenada? There are colonial streets, fortresses, museums and historical places to know. And events! In this month, from November 22, will be held on Pure Grenada Nutmeg and Spice Festival, which will showcase the various ways in which you can use the spices from the island. It will include gastronomic competitions and exhibitions of photography.
Are you ready to rent a boat in Grenada and enjoy plenitude the island?
Grenadine spark awaits you in the Caribbean!
Writer:
Teresa De Vincenzo