Four reasons why you should rent a boat with a skipper
If you have decided to experience sailing on the Mediterranean and  hav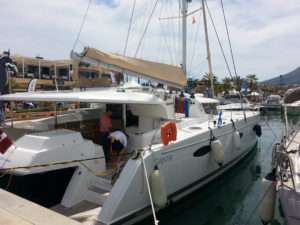 e rented a motorboat, yacht, sailboat or catamaran, you'll also have  to consider whether you'll hire a skipper or not.
Renting a boat with a skipper has its advantages for it is the best way to relax and enjoy your outing and to learn from a professional.
Skippers are sea lovers who have mastered the art of sailing and are aware of the responsibilities that come along with it. Whether you book day outings (Day Charter) or week rentals, having an experienced skipper on board will make for a memorable outing.
Take the following advantages into account if you're considering renting a boat with a skipper:
Skippers have experience and are in charge of vessels
A skipper is qualified to sail both motor and sailboats of different lengths (recreational boats up to 15 meters to yachts up to 24 meters). He is physically and mentally prepared to sail safely and has all the necessary experience and knowledge with respect to boat technology, communication and maneuvers. Most importantly, he is responsible for the safety of the vessel and those on board.
No worries while you're on board
As the skipper is responsible for the vessel and sailing, you can relax and enjoy yourself- take pictures, bask in the sun, do some diving or other water sports. The skipper stays on board even after anchoring. If the journey is long and there is a crew on board, you won't need to worry about taking turns at the helm.
Skippers are familiar with points of interest at sea and on land
A skipper is not only experienced in sailing, he is also familiar with the best coves and beaches, from the most coveted to the most remote. He will be more than happy to share what he knows. He can also recommend restaurants and points of interest that are worth visiting once you dock. In fact, if you are a sea lover, he will give you appropriate and valuable advice.
If they know how to cook, you'll have a feast on board 
Some skippers are great cooks. If you hire one that loves cooking and come to an agreement with him beforehand, you'll have the chance to savour some delicious dishes. Treat yourself to a Mediterranean rice and fish dish (arroz caldoso) aboard a luxury yacht!
Convinced that renting a boat with a skipper is definitely worthwhile? On your next outing, leave your worries on land and enjoy cruising on the Mediterranean.
Redactora:
Teresa De Vincenzo
www.redactotexto.com
Contacto de empresa:
Orsi Oletics
EMAIL