Impressive high performance luxury catamaran for sale in Alicante  
The X5 Sail catamaran from Xquisite Yacht shipyard is now on sale and ready to be delivered to Alicante.
Designed by Rudolf Jonker of Phoenix Marine, this luxurious white yacht with a 1000 nautical mile range, quiet  engines and a stiff laminate hull stands out among the rest because it can be controlled by an iPad and was designed for its fortunate owners to sail around the world in it.
Would you like to know more about its features? Continue reading.
Built for comfort and safety
The X5 Sail´s deck is made of high density material and its surface has an anti-slip finish.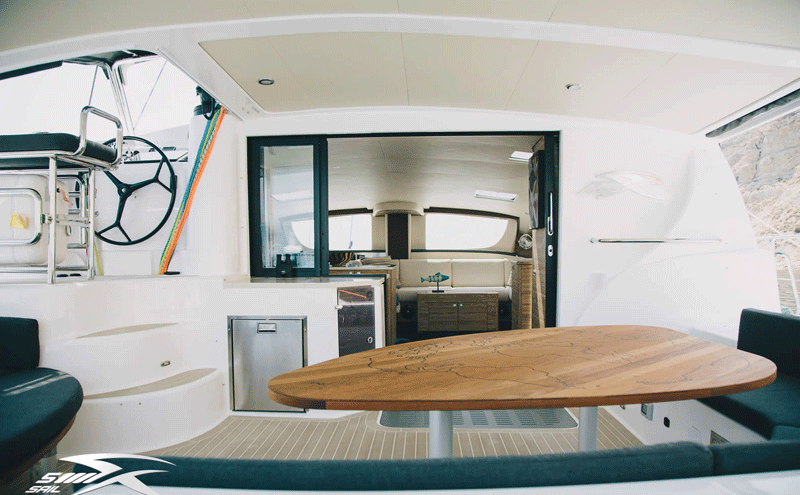 There are two recessed water tank fillers fitted on the coach roof so as  to act as rainwater collection points, breathers exit above deck level, non-opening cabin windows with tinted glass, stainless steel side railings and handrails covering the hull deck bond.
Its spars are built of extruded aluminum and anodized in silver- grey. It has a furling system for headsails as well as navigation, deck and anchor lights and it comes with a VHF aerial on top of the mast.
The kitchen is fully equipped with storage cupboards and LED ceiling  lights. There is a large saloon area with a 360 degree panoramic view, a U-shaped settee with cloth upholstery and a large convertible saloon table.
When it's time to relax on the luxurious X5 Sail, there are two large open net trampolines lashed to the deck,  a stainless steel swimming ladder on Port side with a stainless steel handrail up each stepped transom and a recliner style sun bed on aft deck.
In the helm station area there is an extra-large double seat helm chair with a padded backrest, a large power dampened compass and a 700 mm stainless steel helm wheel. There is a separate molded instrument module with angled mounting surfaces for comfort and better visibility.
Dreamlike interior finishes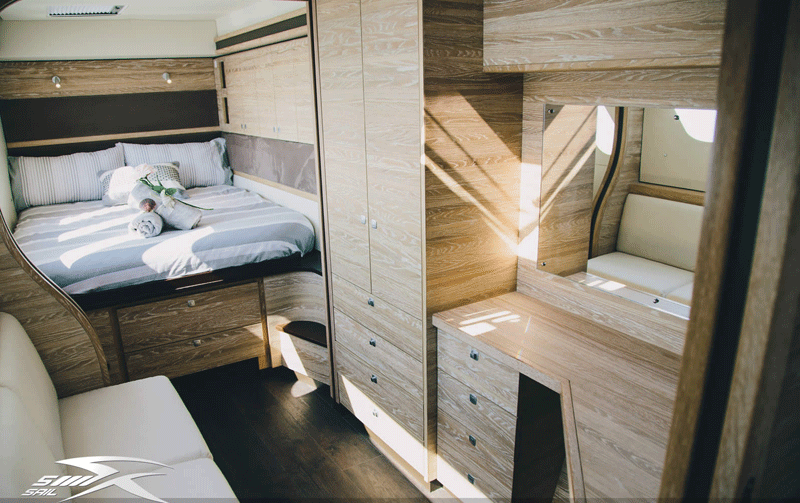 All joinery work and finishing in the X5 Sail cabins has been done using first grade marine materials, solid oak and matt acrylic lacquer for a    professional and durable finish. All cupboards interiors have a lined or painted surface. The ceilings and topside linings are in light cream soft touch leather furnishing. There are multi-layered foam mattresses covered in fabric in cabins and basin units and galley tops are made of Corian. There are several non-opening hull windows which bring in a lot of natural light. Floors are laminated and there are dressing tables with drawers, waterproof sockets, reading lights, 52.000 BTU air conditioning units, enclosed bathrooms and electric toilets.
Quiet and efficient engines
The catamaran X5 Sail's engine room is soundproof and accessible via two especially molded large hatches in the aft cockpit floor. There are two Yanmar Marine diesel engines Model  4JH8-TE (80 HP at 3200 RPM) and a complete passive ventilation system. Its fuel capacity is of 790L (2 tanks), one for each engine with a shut off valve and a pump to transfer fuel from one tank to another.
All light current wiring  is silicone tinned wiring which is flameproof, does not give off toxic vapors and designed to minimize voltage drop.
The X5 Sail complies with safety equipment requirements – Category 1 offshore safety equipment including an 8 man Viking life raft. There is also a Fireboy automatic fire extinguishing system in each engine room.
 Dare to sail around the world on this luxury boat? It's guaranteed to be a memorable experience.
You can order your boat and have it delivered in Alicante or any other location in the world (customers are responsible for boat delivery).
Inquire about price and delivery availability by contacting us via e-mail at Disfrutamediterraneo.com or WhatsApp at (34 676 600 792).
DATA SHEET
Shipyard: XQUISITE YACHTS
Model: X5 SAIL
Country of Origen: South Africa
Sleeping Capacity: 6 – 8 persons
Crew: sailor and skipper
Cabins: 3 or 4
Bathrooms: 3 or 4
Length: 15.44 m
Beam: 8.00 m
Engine model: 2 x Yanmar 80 CV
Range: 1000 nm
Year built: 2019
Cruising Speed: 8 knots
Maximum Speed: 9.5 knots
Company contact:
Orsi Oletics
CEO
www.disfrutamediterraneo.com